A Very Welphy Christmas: "Shopping Sprees & Breaking Floorpans."
Cast of characters in this page:
Annette Welphy is the obese, angry, elderly, and delusional wife of Thomas Welphy and adoptive mother of AC Welphy. She has two personas - a public one where she is an active and upstanding member of the community, and a private one, where she is extremely slothful, angry and abusive to her own family and immediate friends. Occasionally has dizzy spells that leave her doing strange things to her hind. Although she is elderly and obese, she employs one of the most devastating maneuvers known to mankind... the "EAT-ME-OUT-CROTCH-ROT-TORTURE-HOLD-REVERSE-PEDIGREE." Best to NOT find yourself in it.

Comics: 50
Recent Appearance: Ultra Thin Condoms And Forkbies | ChrusherComix Holiday Special
First Appearance: 10-Minute Quickie Chrusher #1 - The Arrival of the Dark Conquerors [Remastered Cover]

YouTube Video of people enjoying ChrusherComix!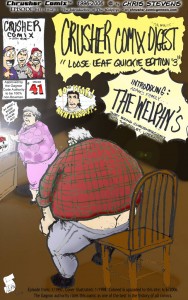 SCOTT "COW" GAGNON'S SELECT COMEDY COMIC SPOTLIGHT: The Dark Conquerors #3 - The Introduction of the Welphys
As the Dark Conquerors pummel their enemies, rendering them into ruined, barely alive zombies at the Hospital, The Welphys enter the picture. Elderly, obese, cantankerous, abusive, hateful, two-faced coprophiliacs... the Welphy family take the ChrusherComix Universe to all-new lows. Don't believe me? Just read it. Stain your eyes for good. And watch Scott Gagnon laugh his ass off over it!
Search ChrusherComix & Towner Comic text: