"What.. In Hell's Name… Is Fucking… That?!" | The Dark Conquerors Cometh
Cast of characters in this page:
Chace Kristoph (formerly known as Chris "Crusher" Stevenson) is the main protagonist of this comic book and graphic novel. Hurled into the spotlight unwittingly, as he was just a regular, every day, normal high school freshman in Oswegonia, a childish game of one-upmanship between he, Mike Butski and Ron Foule became a full-fledged grudge match as time went on. Formed The Conquerors, a group of good ol' boy high schoolers of all stripes against mischievous, trouble-making classmates and later on, corrupt teachers. Raised by his mom and adoptive uncle Wesley "TrOgre" Stevenson (who he believed was his father for years, as his father was killed in Southeast Asia when he was a youth), he received a ruby-bloodstone crucifix from his grandfather which was apparently the induction into a mystic group of vigilantes known as the Chr'shr, a secret group of justice-seeking vigilantes that work outside of the restrictions of law in cases of criminals who also operate as otherwise untouchable by the law (or in control of it). His character the straight man amidst the craziness of the rest of the book, but often getting dragged into and joining the craziness of those around him. Strong moral fiber, intelligent, athletic, trained and highly-skilled in several martial arts, Chrusher later on becomes a private detective with a background in Forensic science and a skill at forensic art, while secretly being a member of the Ch'Shr secret society of vigilantes.

Comics: 181
Recent Appearance: "BOOM!" | Chrusher: End Cycle #2
First Appearance: Crusher Comics #1 | Classic ChrusherComix Season One, Issue #1 (20th Anniversary Commemorative Cover - 1988-2008)

Corey Marone is the younger brother of Conqueror-tryout (turned near-immediate Conqueror-quitter) Jamie Marone. However, Corey had a LOT less maturity than his older brother and acted like a total buffoon most of the time. Since his father was a State Trooper, he felt like he was bulletproof, and would routinely goof off. Often seen with his best buddy Mark "Blubbs" Sharkton, and together they are like two of the Three Stooges, but dumber and more filthy minds and potty-mouths. When their buddy Danny G. Boyce finds them, he has an abusive relationship with them that REALLY turns the situation into a Three Stooges dynamic. [SPOILER ALERT: After high school, joined the military and saw action in Iraq. Was immediately promoted to the position his father left upon his return to the States.]

Comics: 27
Recent Appearance: Interlude - Welphy's 80-footer end longest day
First Appearance: PUBERTY STRIKES... and so do Middle Schoolers | Crusher Comics #9: Mega-Ron

YouTube Video of people enjoying ChrusherComix!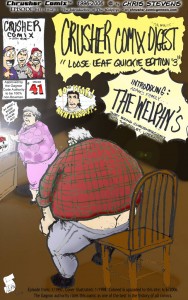 SCOTT "COW" GAGNON'S SELECT COMEDY COMIC SPOTLIGHT: The Dark Conquerors #3 - The Introduction of the Welphys
As the Dark Conquerors pummel their enemies, rendering them into ruined, barely alive zombies at the Hospital, The Welphys enter the picture. Elderly, obese, cantankerous, abusive, hateful, two-faced coprophiliacs... the Welphy family take the ChrusherComix Universe to all-new lows. Don't believe me? Just read it. Stain your eyes for good. And watch Scott Gagnon laugh his ass off over it!
Search ChrusherComix & Towner Comic text: