RaYzor vs. The Shitbomb | ChrusherComix (Featuring Lunaticials!)
Cast of characters in this page:
RaYzor "Hitman" Cadildo (or is it Constipatello?) is one of Crusher's oldest friends. As a young lad, he watched many pro-wrestling matches and became a fan of characters such as Shawn Michaels, Bret "Hitman" Hart, and Razor Ramon (Gee... I mean, he ripped off their names). Known as being a very outgoing extrovert, he is somewhat less known for the truth that he is a master of manipulation. He was champion pro-wrestler in his elementary school playground championships, and held the title throughout Middle School via conniving cheating and self-disqualification to preserve his title. When first hearing Guns n' Roses, he knew his goal in life was to grow his hair long and rule. Proficient at wrestling, an avid musician, and good with computor mashines, he set upon that path. [SPOILERS: RaYzor was recruited into Welforce by default - he was simply hiding in a Charity Donation box when Butski stumbled upon him. He was getting picked on by on-again/off-again friend, Conqueror Chris "Crasher" Chassis and had enough. He snapped. It began a long rise from lowly Welforce agent to the conspired defeat and hospitalization of Crasher, the betrayal of Welforce, and joining the Conquerors, blaming Crasher's coma on Ron Foule. He later on set his sights on Chrusher's leadership of the Conquerors, but led the team in to utter failure in their 1st loss to Welforce, and the rest of the team mutinied him. Chrusher's return saw Ray completely snap and be institutionalized, where he met people who resembled his idols. Chrusher later on forgave RaYzor for his crimes and Ray stayed in the Conquerors when the rest of the group quit. Ray has been a Conqueror ever since.]

Comics: 114
Recent Appearance: Ogre & Ray Lose It | Defecation of Elephantitus
First Appearance: Crusher Comics #1 | Classic ChrusherComix Season One, Issue #1 (20th Anniversary Commemorative Cover - 1988-2008)

YouTube Video of people enjoying ChrusherComix!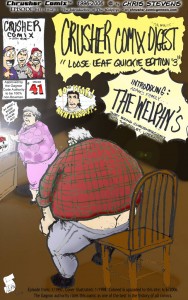 SCOTT "COW" GAGNON'S SELECT COMEDY COMIC SPOTLIGHT: The Dark Conquerors #3 - The Introduction of the Welphys
As the Dark Conquerors pummel their enemies, rendering them into ruined, barely alive zombies at the Hospital, The Welphys enter the picture. Elderly, obese, cantankerous, abusive, hateful, two-faced coprophiliacs... the Welphy family take the ChrusherComix Universe to all-new lows. Don't believe me? Just read it. Stain your eyes for good. And watch Scott Gagnon laugh his ass off over it!
Search ChrusherComix & Towner Comic text: