What If We Had The Liberal Media During WWII? | Chrusher Comix
YouTube Video of people enjoying ChrusherComix!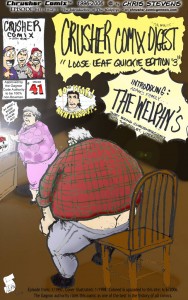 SCOTT "COW" GAGNON'S SELECT COMEDY COMIC SPOTLIGHT: The Dark Conquerors #3 - The Introduction of the Welphys
As the Dark Conquerors pummel their enemies, rendering them into ruined, barely alive zombies at the Hospital, The Welphys enter the picture. Elderly, obese, cantankerous, abusive, hateful, two-faced coprophiliacs... the Welphy family take the ChrusherComix Universe to all-new lows. Don't believe me? Just read it. Stain your eyes for good. And watch Scott Gagnon laugh his ass off over it!
Search ChrusherComix & Towner Comic text: