The Way of the Red-Nutted Ruler
Cast of characters in this page:
Dan is a cool guy. Loves hot snatch, dip, beer, soda, greasy burgers, fast cars, liquor, violent video games, gangsta rap, and blow-pops. Buddy to Corey Maronie and Mark Sharkton, although by the way he speaks to them and slaps them around you wouldn't know it. Friend of Chrusher, yet also friends with the new Welforce, making him somewhat of a mercenary for hire. He absolutely HATES Ron Foule, and LOVES giving full-effort roundhouse punches and brutal kicks to unconscious or prone people, so watch yourself around him. The only person known to ever defeat the "EAT-ME-OUT-CROTCH-ROT-TORTURE-HOLD-REVERSE-PEDIGREE" move employed by one Annette Welphy.

Comics: 37
Recent Appearance: "All Those Gynecological Problems" (In Your Face) | ChrusherComix Featuring Lunaticials
First Appearance: Into the Bike Trail of Death... er, or... a bunch of kids? | Wrath of the Rake (1989)

YouTube Video of people enjoying ChrusherComix!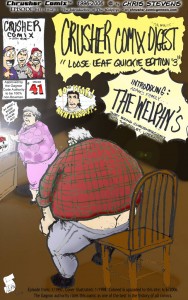 SCOTT "COW" GAGNON'S SELECT COMEDY COMIC SPOTLIGHT: The Dark Conquerors #3 - The Introduction of the Welphys
As the Dark Conquerors pummel their enemies, rendering them into ruined, barely alive zombies at the Hospital, The Welphys enter the picture. Elderly, obese, cantankerous, abusive, hateful, two-faced coprophiliacs... the Welphy family take the ChrusherComix Universe to all-new lows. Don't believe me? Just read it. Stain your eyes for good. And watch Scott Gagnon laugh his ass off over it!
Search ChrusherComix & Towner Comic text: