Sensei Rockosumpi Instructs Martial Arts to Ron Foule | Welforce (1989)
Cast of characters in this page:
Ronald "The Cool Fool" Foule is the quintessential nerd. Tall, skinny, pale, socially awkward, questionable fashion sense, studious at schoolwork... he really only lacks thick glasses to be the full model nerd. Ronnie began his freshman year of high school continuing his odd middle school fixation with one Michael Butski. Ron was somewhat sexulaly confused, being attracted to Butski, until Butski showed him a Playboy magazine, and Ron then woke up and started developing feelings for women as well. However, he still had an odd affection for Butski, who actually did make out with him a few times... (EEWW!). Friends with Chrusher, although at times tried to prove his toughness which got the ENTIRE COMIC started via a silly high school classmate rivalry. [SPOILER ALERT: Ronald grew up to be a secretive, but productive member of society, working for his father's corporation and actually married to a stunning blonde.]

Comics: 96
Recent Appearance: Ronald Returns | Chrusher: End Cycle #2 (2009-01-27)
First Appearance: Crusher Comics #1 | Classic ChrusherComix Season One, Issue #1 (20th Anniversary Commemorative Cover - 1988-2008)

YouTube Video of people enjoying ChrusherComix!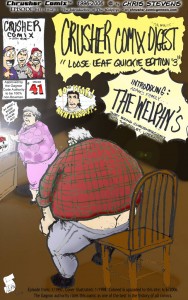 SCOTT "COW" GAGNON'S SELECT COMEDY COMIC SPOTLIGHT: The Dark Conquerors #3 - The Introduction of the Welphys
As the Dark Conquerors pummel their enemies, rendering them into ruined, barely alive zombies at the Hospital, The Welphys enter the picture. Elderly, obese, cantankerous, abusive, hateful, two-faced coprophiliacs... the Welphy family take the ChrusherComix Universe to all-new lows. Don't believe me? Just read it. Stain your eyes for good. And watch Scott Gagnon laugh his ass off over it!
Search ChrusherComix & Towner Comic text: