The Ogre Soundtrack CD Set Cover (1994) | Chris' Crusher Comics
Alternate versions of the album covers
Original front cover: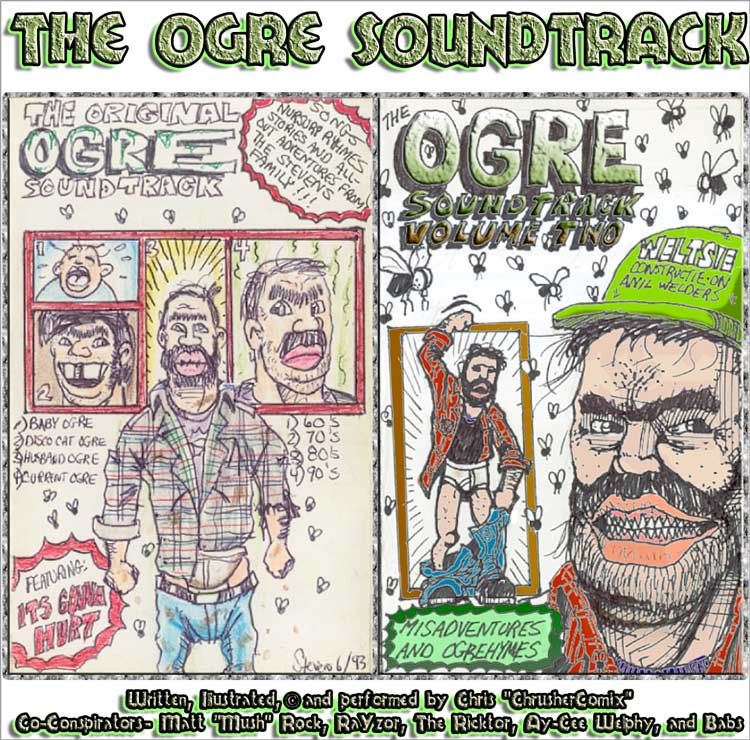 Original inside cover:
Original back cover:
Original Cassette covers (All hand, no computer graphics):
This is the CD cover to The Ogre Soundtrack, a 2-CDR set that the following comic was illustrated to accompany, telling a condensed (and probably less funny) version of it. It features the voice talents of Chris ChrusherComix, RaYzor, Chris' brother Matt, Ricktor Equalizer, AC Welphy, and Babs Babbit! It also has copyrighted music (by John Williams, Guns n' Roses, Vince DiCola, and James Brown) used without permission, but since this isn't a commercial release, and it's just a home-made comedy thing that I don't sell, then I will name them. It is available for a $20 love gift to the author (again… it is NOT for sale, but you can have a copy if you donate money to ChrusherComix Ltd.). Use the Paypal Donation buttons on this page.