"My Sai Shall Be Stuck In Your Heart."| Crusher Comics Classics #5
Cast of characters in this page:
Chace Kristoph (formerly known as Chris "Crusher" Stevenson) is the main protagonist of this comic book and graphic novel. Hurled into the spotlight unwittingly, as he was just a regular, every day, normal high school freshman in Oswegonia, a childish game of one-upmanship between he, Mike Butski and Ron Foule became a full-fledged grudge match as time went on. Formed The Conquerors, a group of good ol' boy high schoolers of all stripes against mischievous, trouble-making classmates and later on, corrupt teachers. Raised by his mom and adoptive uncle Wesley "TrOgre" Stevenson (who he believed was his father for years, as his father was killed in Southeast Asia when he was a youth), he received a ruby-bloodstone crucifix from his grandfather which was apparently the induction into a mystic group of vigilantes known as the Chr'shr, a secret group of justice-seeking vigilantes that work outside of the restrictions of law in cases of criminals who also operate as otherwise untouchable by the law (or in control of it). His character the straight man amidst the craziness of the rest of the book, but often getting dragged into and joining the craziness of those around him. Strong moral fiber, intelligent, athletic, trained and highly-skilled in several martial arts, Chrusher later on becomes a private detective with a background in Forensic science and a skill at forensic art, while secretly being a member of the Ch'Shr secret society of vigilantes.

Comics: 181
Recent Appearance: "BOOM!" | Chrusher: End Cycle #2
First Appearance: Crusher Comics #1 | Classic ChrusherComix Season One, Issue #1 (20th Anniversary Commemorative Cover - 1988-2008)

Keith was once a regular, every day high school teenager. However, when Cow and The Grim Raker took over his Science class and slashed his butt with a muto-powered rake, his face became permanently deformed and he grew four razor-sharp blades from each knuckle. Gets very angry when one points out the obvious - that he looks like a cross between Cobra Commander and Wolverine. Keith has a very dark outlook on life, and has been rumored to have studied mystic arts. Often goes on racist rants, which in turn has made some people call him "KKKeith." Has pure hatred for those who have crossed him. A sadistic and malicious prankster extraordinaire. Though an old friend of Chrusher, he's considered to be a loose cannon.

Comics: 58
Recent Appearance: KKKeiths Pranks Begin
First Appearance: Crusher Comics #1 | Classic ChrusherComix Season One, Issue #1 (20th Anniversary Commemorative Cover - 1988-2008)

In the 1980s there was a boom of Ninja popularity. Not much was actually known about real Ninjutsu, but every kid loved ninjas in cartoons and movies and wanted to be one. Preston was another such case. Poor Preston had an acne problem that caused some mockery amongst his classmates. One incident was between him and Keith Clarkson. Animosity brewed. It took head with a fight at a school dance, one where Preston dressed as a black ninja, hid in the shadows, threatened to stab Keith in the heart with a sai, and left.

Comics: 7
Recent Appearance: KKKeiths Pranks Begin
First Appearance: Real-Life Fight Breaks Out On Fan Letter's Page!? | Crusher Comics 1988

Ronald "The Cool Fool" Foule is the quintessential nerd. Tall, skinny, pale, socially awkward, questionable fashion sense, studious at schoolwork... he really only lacks thick glasses to be the full model nerd. Ronnie began his freshman year of high school continuing his odd middle school fixation with one Michael Butski. Ron was somewhat sexulaly confused, being attracted to Butski, until Butski showed him a Playboy magazine, and Ron then woke up and started developing feelings for women as well. However, he still had an odd affection for Butski, who actually did make out with him a few times... (EEWW!). Friends with Chrusher, although at times tried to prove his toughness which got the ENTIRE COMIC started via a silly high school classmate rivalry. [SPOILER ALERT: Ronald grew up to be a secretive, but productive member of society, working for his father's corporation and actually married to a stunning blonde.]

Comics: 96
Recent Appearance: Ronald Returns | Chrusher: End Cycle #2 (2009-01-27)
First Appearance: Crusher Comics #1 | Classic ChrusherComix Season One, Issue #1 (20th Anniversary Commemorative Cover - 1988-2008)

YouTube Video of people enjoying ChrusherComix!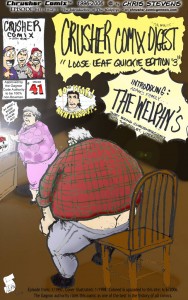 SCOTT "COW" GAGNON'S SELECT COMEDY COMIC SPOTLIGHT: The Dark Conquerors #3 - The Introduction of the Welphys
As the Dark Conquerors pummel their enemies, rendering them into ruined, barely alive zombies at the Hospital, The Welphys enter the picture. Elderly, obese, cantankerous, abusive, hateful, two-faced coprophiliacs... the Welphy family take the ChrusherComix Universe to all-new lows. Don't believe me? Just read it. Stain your eyes for good. And watch Scott Gagnon laugh his ass off over it!
Search ChrusherComix & Towner Comic text: