Butski Steals From Charity Donation Box | The Welforce™ (1988-89)
Cast of characters in this page:
Michael "Misfit Biscuit" Butski is an extremely odd fellow - and the 1st character ever created in the ChrusherComix universe. Star of the long-lost "Misadventures of Mike Butski" comic (that was confiscated by middle school teachers in 1987), he was then the 2nd character ever seen in Classic ChrusherComix #1, fighting off the advances of the sexually confused Ronald Foule. Usually clad in his nerdy taped-up glasses, beige/tan cowboy/polo shirt, and army green pants, and a thin layer of filth, dirt and grime, he is unmistakable with giant cheeks and a shit-eating grin when he's up to something. Apparently comes from a middle-class rural farmer/hunter family (although never seen), yet is a complete and total scrounge who scavenges everything and anything he can. Claims to have sweet motorbikes, ATVs and expensive BMX bicycles that he claims are expensive (yet nobody ever does see him in them). In other words, he looks dirt poor, claims that his family is well-off, but he's kind of a welfare fraud and notorious cheat either way. Borrows (without ever repaying), looks like a street kid (but apparently lives in a nice-sized family home), and steals from charity donation bins. Claims to score with hot chicks, yet nobody ever sees him with any. He is the friend of Chrusher, yet his dishonest scrounging sometimes puts him at odds with Crush. When caught stealing from the Charity boxes, he was recruited into Welforce, he began a longstanding rivalry with Crusher's justice-seeking, amatuer high school vigilante group - the Conquerors.

Comics: 73
Recent Appearance: "But his mind is unbalanced. He's a f***in' psycho!" | Clogged Butts & Lunaticials
First Appearance: Crusher Comics #1 | Classic ChrusherComix Season One, Issue #1 (20th Anniversary Commemorative Cover - 1988-2008)

YouTube Video of people enjoying ChrusherComix!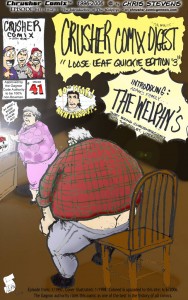 SCOTT "COW" GAGNON'S SELECT COMEDY COMIC SPOTLIGHT: The Dark Conquerors #3 - The Introduction of the Welphys
As the Dark Conquerors pummel their enemies, rendering them into ruined, barely alive zombies at the Hospital, The Welphys enter the picture. Elderly, obese, cantankerous, abusive, hateful, two-faced coprophiliacs... the Welphy family take the ChrusherComix Universe to all-new lows. Don't believe me? Just read it. Stain your eyes for good. And watch Scott Gagnon laugh his ass off over it!
Search ChrusherComix & Towner Comic text: