"You Muthafuckin', Fat Bitch-Assed Kid!!!" | ChrusherComix Christmas Special
Cast of characters in this page:
Scott is a strange lad who refers to himself as "The Overlord." Claims that his "power is too much," and often refers the drainage of all other "power sources" within his immediate vicinity. He also speaks often of greased rakes, telephone poles, fences, forks, pencils, crayons, chainsaws, lawn mowers, rusty pitchforks, bike chains and ice-picks up people's hind sides. Founder of "The Rake Hectors" and "The Saucy Chain of Doom." Once a foe of Chrusher, now an ally.

Comics: 72
Recent Appearance: "Time To Spread My @$$ Cheeks for Santa's Big Wet Schl---"
First Appearance: Crusher Comics #1 | Classic ChrusherComix Season One, Issue #1 (20th Anniversary Commemorative Cover - 1988-2008)

YouTube Video of people enjoying ChrusherComix!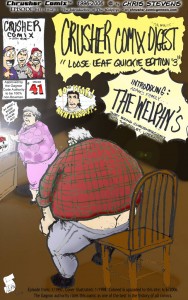 SCOTT "COW" GAGNON'S SELECT COMEDY COMIC SPOTLIGHT: The Dark Conquerors #3 - The Introduction of the Welphys
As the Dark Conquerors pummel their enemies, rendering them into ruined, barely alive zombies at the Hospital, The Welphys enter the picture. Elderly, obese, cantankerous, abusive, hateful, two-faced coprophiliacs... the Welphy family take the ChrusherComix Universe to all-new lows. Don't believe me? Just read it. Stain your eyes for good. And watch Scott Gagnon laugh his ass off over it!
Search ChrusherComix & Towner Comic text: