Will The Obliterator Have Revenge? | The Welforce™ (1988-89)
Cast of characters in this page:
Name unknown from parts unknown, claims to be the cousin of Ron Foule. A massive, hulking, blonde-haired, blue-eyed genetic anomoly who was once picked on as a youth and abused steroids (and a mystery drug known as HuMiracle Gro) to become massively muscular and freakishly strong with enhanced reflexes. Obsessed with revenge against those who he feels one-upped or bullied him or his cousin Ron, despite showing no real relationship with him. Appears to have low cognitive skills, as he is seemingly obsessed with only getting stronger and defeating those who he feels crossed him.

Comics: 40
Recent Appearance: The Last DaYz Of The Glare: Part II
First Appearance: Crusher Comics #1 | Classic ChrusherComix Season One, Issue #1 (20th Anniversary Commemorative Cover - 1988-2008)

YouTube Video of people enjoying ChrusherComix!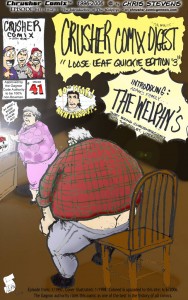 SCOTT "COW" GAGNON'S SELECT COMEDY COMIC SPOTLIGHT: The Dark Conquerors #3 - The Introduction of the Welphys
As the Dark Conquerors pummel their enemies, rendering them into ruined, barely alive zombies at the Hospital, The Welphys enter the picture. Elderly, obese, cantankerous, abusive, hateful, two-faced coprophiliacs... the Welphy family take the ChrusherComix Universe to all-new lows. Don't believe me? Just read it. Stain your eyes for good. And watch Scott Gagnon laugh his ass off over it!
Search ChrusherComix & Towner Comic text: