"Darn, that booger is WWAAYYY up there!" / Ray Constipatello | Crusher Comics #2 (1988)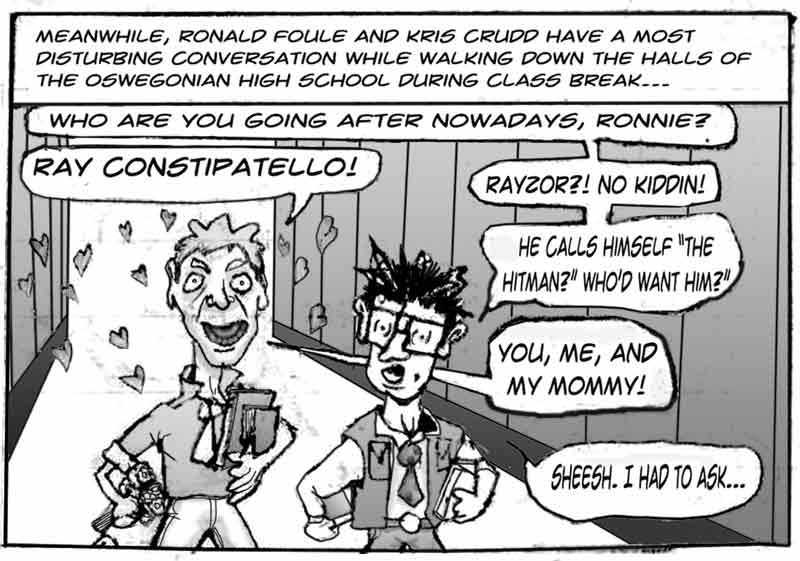 Blow-up of frame 2, the 1st off-hand mention of a lad nicknamed RaYzor, who later became a main character in the book.
Butski balltags Chrusher, Ronald has a new crush, a man named RaYzor. And then, someone locates Butski. Someone very large, very strong... and very mad. Written, Illustrated & Colored by Christopher Galletta Stevens - ©®™ 1988-2013
"Chrusher" must face the crazed student known as Scott "The Cow" - and the madness of his lethal rakes. Yes, I said rakes. But Cow is not the only foe that is lurking... a powerful enemy with an insatiable desire for inflicting pain is waiting in the wings for violent revenge! A digitally re-mastered collection of the "Chris' Crusher Comics" Mini-Issues #4-6 from 1988 printed for the very first time! It is the year 1988, and a heroic young lad nicknamed "Chrusher" must face friends, foes, nerds, misfits, bullies, people of alternate lifestyle choices, and corrupt faculty members in his quest for normalcy and justice in a small but strange high school. That, um, will not happen in this book. This story is ****ed. (Please advise, this comic is suitable only for 14-and-up. I'd say higher, but a 14-year-old wrote and drew it).
Copyright secured by Digiprove © 2013 Christopher Galletta Stevens